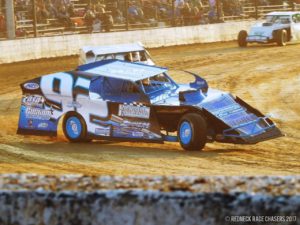 Joel Watson of Conneaut, Oho captured the Zimmer's Service Center United Emod Series (UEMS) championship for the second straight year and his third of his career.  Watson picked up three wins on the season including the season opener and never looked back in the self owned  #92 Rage Chassis, 955 Automotive championship winning Emod. 
Watson three UEMS wins came at the season opener at Mercer Raceway Park and finished the season with a pair of wins at McKean County Raceway at their annual year end Fall Classic.  Along with his third UEMS title, Watson also picked up the track title at Eriez Speedway along with winning the Calvacade and Tri State region championships as the top Emod driver in the northeast.   
Watson defeated Mike McGee by nineteen points in the final 2017 run down that saw former champion, Carl McKinney finishing third in the final points.   Watson and his team won events at McKean County Raceway, Mercer Raceway Park, Eriez Speedway, Stateline Speedway, Sharon Speedway and Dog Hollow in 2017.  
"The team and I have always put the UEMS series at the top of our list each season.  It is always brings the best gathering of our local talent."  Watson continued, Winning for the third time really just a roduct of hard work and dedication from Greg and the rest of the crew."  "The UEMS series may not have the number of shows it did a few years ago, but the quality of competition is just as tough as it was when the series had twenty events, stated Watson." 
ULMS Racing Series founder, Chris Zuver commented on Watson repeating his UEMS title.  "Joel and  his teams is one if not the best team in the northeast in the Emod division." Zuver continued with saying, "race teams measure their success how well they run each night by where they finish within the #92 car and if they beat them, then it was a very successful night.  Joel Watson is the measuring stick for Emod racing in our region here northwestern Pennsylvania, southwestern New York and north eastern Ohio." 
Joel pilots a Rage Chassis from Close Racing Supply with components from Afco Racing Products, Sweet Mfg, Winters Performance, BSB Mfg, Aero Race Wheels, Hoosier Tires, Dynamic Drivelines, Bob Harris Ent, Dirt Defender, Quick Car, Beyea Headers and CRS Race Components keep the Northwest Restoration, Zimmer's Service Center, Lake Shore Auto Parts, Absolute Powder Coating, 955 Automotive, Phantom Graphics Emod.