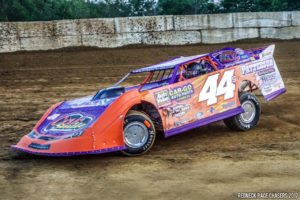 For the second straight year, Waterford, Pennsylvania's, Dave Hess Jr. captured the Zimmer's Service Center ULMS Late Model Series championship.  Hess who picked up three wins on the season including the season opener and never looked back in the Terry Suppa owned #44s CJ Rayburn Chassis by BA Nolte. 
Hess three wins on the year gives him nine career Zimmer Service Center ULMS series wins.  Hess's 2017 championship campaign started off at Mercer Raceway Park with winning the annual Chiller Thriller.   Hess's second win of the year came during 4th of July weekend at Hesston Speedway.  Hess topped a 35 car field at Hesston for his second win of the year.  The third win of the year for Hess and the Suppa Racing #44s came at Freedom Motorsports Park.  Hess also set overall fast time for the series finale at McKean County Raceway. 
Hess defended his 2016 series title successfully by 21 points over Greg Oakes in the 16 ULMS events held at nine different tracks.  Hess has five wins in the past two seasons and currently sits 4th in all time series wins.  Hess had eight top five finishes and thirteen top ten finishes in the fifteen ULMS events.   
The Suppa Racing team is the only team in the top 10 in points that uses a CJ Rayburn chassis while many others prefer the popular Rocket brand.  Hess along with the team owner Terry Suppa and crew chief Brad Nolte have made the CJ Rayburn Chassis and preferably the Hess #44 machine one of the top teams to beat in the northeast region.   
Two time champion, Dave Hess commented on his success the past two years in the Suppa Racing #44s.  "Having the opportunity to drive for Terry was what I needed, after taking a year or two off with my back.  Terry had few successful years in the crate class with Chad Ruhlman and Randy Hall and that success has been key the past two years in the super lates, stated Hess."   The champion continued, "also having Brad Nolte turning the wrenches and both him and Terry's knowledge and relationship with CJ has been priceless."   "As for defending our title with the ULMS series, it's a great regional series with good payouts and no major travel cost expenditures for the teams, Chris Zuver has the series pretty much back where it was a few years ago with a good number of shows and at same time it allows us to be able to compete weekly at our home tracks and allow us to win the Eriez title this year also along with the ULMS title.  It has been a great year!, stated Dave." 
Car owner, Suppa commented about his champion driver and his accomplishments.  "Dave Hess Jr. and I became acquainted through a mutual friend, Dan Marshall."  "Dan and I sat together at Eastbay Raceway during Florida Speed Week, I proposed the question.  "Hey, do you think Hess would want to run one of my Rayburn's by BA?"  "Dan called him up on the spot and asked the question, upon my return from Florida, Hess and I met up and put this deal together."  
Suppa continued, "One of the best parts of all this experience was being able to put CJ Rayburn Racecars back on top again." "We are winning races with something no one else has, a swing arm suspension!" "Most people just scratch their heads because the setup of the swing arm, they believe is so unique." "In my belief, CJ Rayburn has created a setup that has proven to be a winner in the Suppa Racing program plus with how talented Dave is driving it makes my job a lot easier." 
ULMS Series owner, Chris Zuver stated, "The Suppa Racing operation has become one of the top regional teams in the mid-Atlantic region."  "The knowledge of the Rayburn chassis that Terry and Brad have from their days traveling with Todd Andrews and the driving ability of Dave Hess Jr., who his arguably one of the areas finest racers has made that team a force and one of the reasons why they are the two-time defending series champion!" 
The Terry Suppa owned #44s CJ Rayburn by BA Nolte driven by Dave Hess is sponsored by Beacon Lubricants, McKean Tavern, Chiropractic Solutions, Fox's Pizza of Warren, CarSmile Wiper Blades, Cargo Auto Parts, Close Racing Supply, Hess Garage, Patterson Overhead Door, House Doctor, Genesis Shocks and Hoosier Racing Tire.