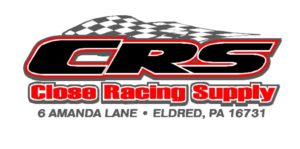 We are proud to welcome back Close Racing Supply of Eldred, PA on board as one of the Zimmer's Service Center Inc. ULMS Late Model Series major sponsors for the 2018 season. The Close Racing Supply "Elite" program for the ULMS Late Model teams is designed to keep the faithful followers of the series with additional monetary rewards throughout the season to help offset some of the traveling expenses incurred.
The program will be rewarding contracted race teams with the series a guaranteed $400 in start money for each ULMS Series event they qualify for and for contracted teams that have a bad night and fail to qualify, they will receive a guaranteed $200. The first event of the season is scheduled on March 24th at Port Royal Speedway. The following Elite drivers who had perfect attendance in 2017 are eligible for the bonus money at Port Royal are defending series champion, Dave Hess Jr., defending series car owner Terry Suppa with a new driver to be announced, Breyton Santee and John Weaver. They will be eligible for the Close Racing Supply Elite Driver Program at that event. All other team that sign up will start collecting guaranteed contract monies with the second event on the 2018 schedule. ELITE contracted drivers must be in the top 10 in points. Guaranteed contract monies will be awarded to the top 8 point cars that are in the top 10 in points. The series provisional positions will be based off the top contracted driver in points that do not qualify.
Series, owner and race director, Chris Zuver stated his excitement with the program. "I am very excited to see the drivers who will be running with the ULMS series for 2018. The series has currently 15 events on its 2018 schedule with more events still being discussed. This is the third year for the program and second year Close Racing Supply has been the marketing partner for the program. Al Brewer of Belfast, NY has also committed to the Close Racing Supply Elite Program, the veteran of 47 years of dirt competition returned to super late model racing at the end of 2017 season. We expect several other drivers to join the program also.
The Zimmer's Service Center Inc ULMS Late Model Series has a 15 event schedule in the northeast region for the 2018 season with a $5000 to win championship point fund. With the marketing partnership of Close Racing Supply providing the funding for the Elite program, this additional money paid out will be money that the tracks will not have to worry about and can use as a marketing tool to market the series and drivers to the general public that will be in attendance.
The 2018 Zimmer's Service Center Inc ULMS Late Model Series will be group time trialing for all of their events. Also, ULMS Late Models will continue with the tire rule of Hoosier 1300 or American Racer 44 or harder rule on all four corners.
Joel Smith, of Close Racing Supply, stated, "For many years CRS has supported various race teams along with tracks and series in the region. With this program, we hope to help many teams, and also help a regional ULMS Late Model Series to keep growing in size and value of quality of events" "Dirt racing teams have been great supporter of our business and this is our little way of giving back to them and helping them stay on the track competing in the ULMS Series.
Close Racing Supply has been in business since 1996 supplying quality circle track components at competitive prices. CRS has a large inventory of parts for IMCA/UMP modifieds, Late Models, and Stock Clip Cars. They ship UPS daily and accept most major credit cards. Close Racing Supply can be reached at 814-225-3250 or visit them online at www.closeracingsupply.com.
Race teams that are interested in signing up for the Close Racing Supply "ELITE" Program may contact series director Chris Zuver by email at ulms_racing@hotmail.com for more details.